How can we stop students from cheating in exams?
They say that cheats never prosper. The thing is, many often do because they get away with it.
Cheating in exams is nothing new as some students (and their parents) will do anything to secure good grades. There are even websites devoted to hacking exams giving tips how to cheat. In lots of cases, students have got craftier and have outfoxed the system using technology to do so. Some use mobile phones and smart watches. Some even use invisible earpieces.
For the summer 2017 exam series, the exam regulator for England, Ofqual, said the most common category of exam malpractice was the introduction of "unauthorised materials" into exam venues which in the majority of cases "was a mobile phone or other electronic communications device".
Staff too have been found cheating with 895 penalties issued for a range of irregularities including maladministration and improper assistance to candidates.
In some parts of the world,cheating in exams isn't as sophisticated. In 2016, parents of students were photographed climbing school walls to pass on answers in India's eastern state of Bihar! Authorities there have since asked students not to wear shoes or socks to stop them from cheating during exams.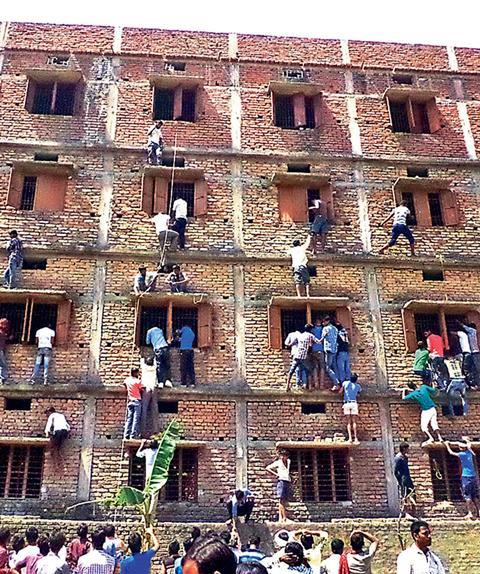 The more students cheat, the less reliable exams become – cheating is a social menace.
It gets worse. Also in 2016, 3,000 students in Thailand had to re-sit their entry exams for a prestigious medical school in Bangkok, because too many students were cheating and the entire exam was compromised.
Unbelievably, students used tiny cameras embedded in their glasses to record the questions on the exam paper, transmitted the images to an outside team, and then waited for correct answers to be sent to them via smart watches!
Rampant cheating in test centres in South Korea has forced them to close their doors.
Cheating is a worldwide epidemic.
What to do?
We seem behind the times when we compare what steps some establishments are taking in other countries. In China, exam centres have used metal detectors, facial and fingerprint recognition technology, mobile phone-signal blockers, wireless detectors and even drones. Some developing nations have even shut down the internet for national exams.
A letter from Ofqual to Heads has been issued for the 2018 summer exam series and this mentions the importance of not allowing mobile phones (oddly, it doesn't mention other electronic devices!). If only it were this simple though. Chief regulator of Ofqual, Sally Collier, says GCSE and A-level students are not handing over their phones before exams as they are worried that their devices will be misplaced or damaged by exam officers.
Ofqual advise that if you see malpractice then you should report it.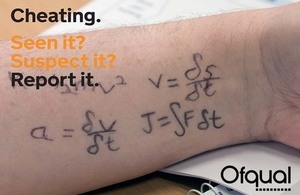 But what about the evidence? Sometimes this isn't always easy to prove. Concrete evidence is needed, so what if this was captured on film?
In some educational institutions, technology is being used to fight back and exam sessions are being videoed.
At the University of Regina in Canada, video cameras have been used "in order to deter and detect exam cheating". The measure was being taken to promote academic integrity and to protect the reputation of the university after a rise of cheating incidents across the campus.
In Bihar, not only are students now searched before they enter an exam hall, they too are being monitored by video while sitting their exams.
And why not? If this is what it takes to root out the cheats, this is what we need to do. Video can be valuable footage as corroborating evidence.
Ofqual don't offer any advice regarding the use of video but why? Privacy laws have clearly frightened everyone away to the extent that video is a step too far yet it is urgently needed.
We've waited donkey's years for the Video Assistant Referee (VAR) in football and exam halls are just as slow.
Video has lots of professional development uses but it can just as usefully be employed as a security measure and to stop the cheats from prospering.
Educational institutions can and must do more to stamp out malpractice – they really have to up their game.
Cheating of any kind is not acceptable and so video should be used and play its part in identifying dishonest students and staff.
What else can we do? Research suggests that asking students to sign honour codes deters cheating. Shu, Gino and Bazerman (2011) found that people who were reminded of moral expectations by writing out or signing an honour code, (or copying down the Ten Commandments) before they took a test reduced cheating. D'Souza and Siegfeldt (2017) says that interventions could also include the following:
Exams must have a stringent warning about cheating printed on Page 1 of the exam.
The penalty for cheating must be set high. Just issuing a warning or a threat of failing the exam does not hinder future cheating – a student caught cheating needs to fail the exam.
There are so many things that educational establishments can do and Ofqual need to take a more pro-active lead in advising and directing. I like what Pearson Professionals Centres (PPCs) have done – these are are the industry's most advanced professional test centre network:
Built to a patented design, they feature comprehensive security technology, biometric test-taker identification, a dedicated proctoring station with full view of each test-taker, and the highest proctor-to-test-taker ratio in the industry. PPCs and many of Pearson's authorised partner centres use digital video surveillance to monitor and record any misconduct during the testing process.
For me, video surveillance is what all school, colleges and universities should be doing to protect the honest and for exposing the dishonest.